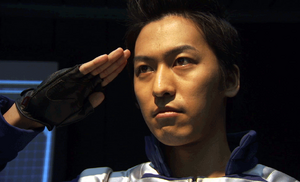 Yuma Megumi is Rescue Fire's Fire-2, donning a silver Fire Suit and pilots Dozer Dragon. His father works as a construction foreman while his mother runs a monjayaki restaurant (Monjayaki is kind of like a Japanese pancake). Yuma's family lineage was the Megumi hikeshi (Japan's worldwide firefighters)
Rescue Fire
Edit
Speical Moves
Edit
Yuma's main tool is usually the Rescue Breaker. With it he can execute the Axe Storm. When he uses the Tri-Basher, gun mode, he can use the attack, Circle Shot.
Personality and Traits
Edit
Relationships
Edit
Tatsuya Homura
Edit
Yuma is Tatsuya's sempai and are often like brothers.
Tama-chan
Edit
Yuma has a crush on Tama-chan, the cafeteria girl. He wasn't really able to express his feelings; as he attempts to set up a personal time together or a date, it ends up as a friendly group meeting. He married her at the final episode.
Ad blocker interference detected!
Wikia is a free-to-use site that makes money from advertising. We have a modified experience for viewers using ad blockers

Wikia is not accessible if you've made further modifications. Remove the custom ad blocker rule(s) and the page will load as expected.