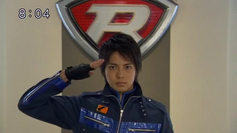 Hikaru Todoroki is a young member of Rescue Force and the current R1 and later gained access to transform into R1 Max. His main vehicles are Core Striker (Max) and Rescue Striker. As R1, he wears blue armor.
Korean name: 라이트 (Light)
Childhood
Edit
During his childhood, Hikaru was friends with Ryuji and caused some mischief together. During one time, Hikaru managed to save his soul mate's life. Since then, Hikaru decided to join Rescue Force and vow to save lives no matter what.
Enrollment in Rescue Academy
Edit
As Hikaru has dreamed of, he attended Rescue Academy to become a member of Rescue Force. He was in special training, due to his skills in Emergency vehicle operation. But he was there for one year only, because he went to college. He was 21 years old when he joined Rescue Academy.
Rescue Force
Edit
Hikaru finally joined Rescue Force and met the current members: Eiji Ishiguro the Captain (who later became R5), Kyosuke Jinrai (R2), Rei Kozuki (R3), and Juri Shiraki (R4). He was already 21 years old. He became the field leader of the Rescue Force, R1. He played with Rei and Juri. He met comrades like R0 and Obuchi who was possessed by Daen. Despite many attempts, he failed to save Obuchi to sacrifice himself, destroying Daen as well.  
☀ Hikaru later marries Juri.
Rescue Fire
Edit
The last remaining member of the Rescue Force team before being transferred to Europe. From episodes 37-38 and from episodes 43-44.
Ad blocker interference detected!
Wikia is a free-to-use site that makes money from advertising. We have a modified experience for viewers using ad blockers

Wikia is not accessible if you've made further modifications. Remove the custom ad blocker rule(s) and the page will load as expected.